Disclaimer
This information contained in this course is for entertainment purposes only.
If you have a gambling problem, please seek professional help.
ROULETTE TRACKER


Seriously Fun Way To Play Roulette


Winning Consistently At Roulette "Not Possible"?


First, as way of an intro, I make my living doing math: one of the many hats I wear is as a quantitative analyst for a stock market research firm.


I create algorithms for stock and futures trading systems used by professional traders, investment managers and registered investment advisors (RIA's) and others. I don't gamble, or at least I have not gambled much in the past. But in November of 2019 I went to a conference (Blockchain Week) in Las Vegas and learned to play roulette.


To my surprise, using basic random number distribution theory and good money management and starting with just $100 I cashed in $575 in chips in two days.


I decided to follow up on my 'system' at the casino in my area, the Turning Stone Casino in a small town in upstate New York. Just about every visit I doubled my small $100 stake money.


Here are some pics I took with my phone's camera each time. I will be going back, but they shut down temporarily due to the COVID breakout. I blocked out the barcodes just in case they might be abused or contain identifiable info. You can see my 'tracker' sheets below the ticket.
It works on 'live' tables, Interblock 'bubble' machines (real-live sessions and examples below) and online!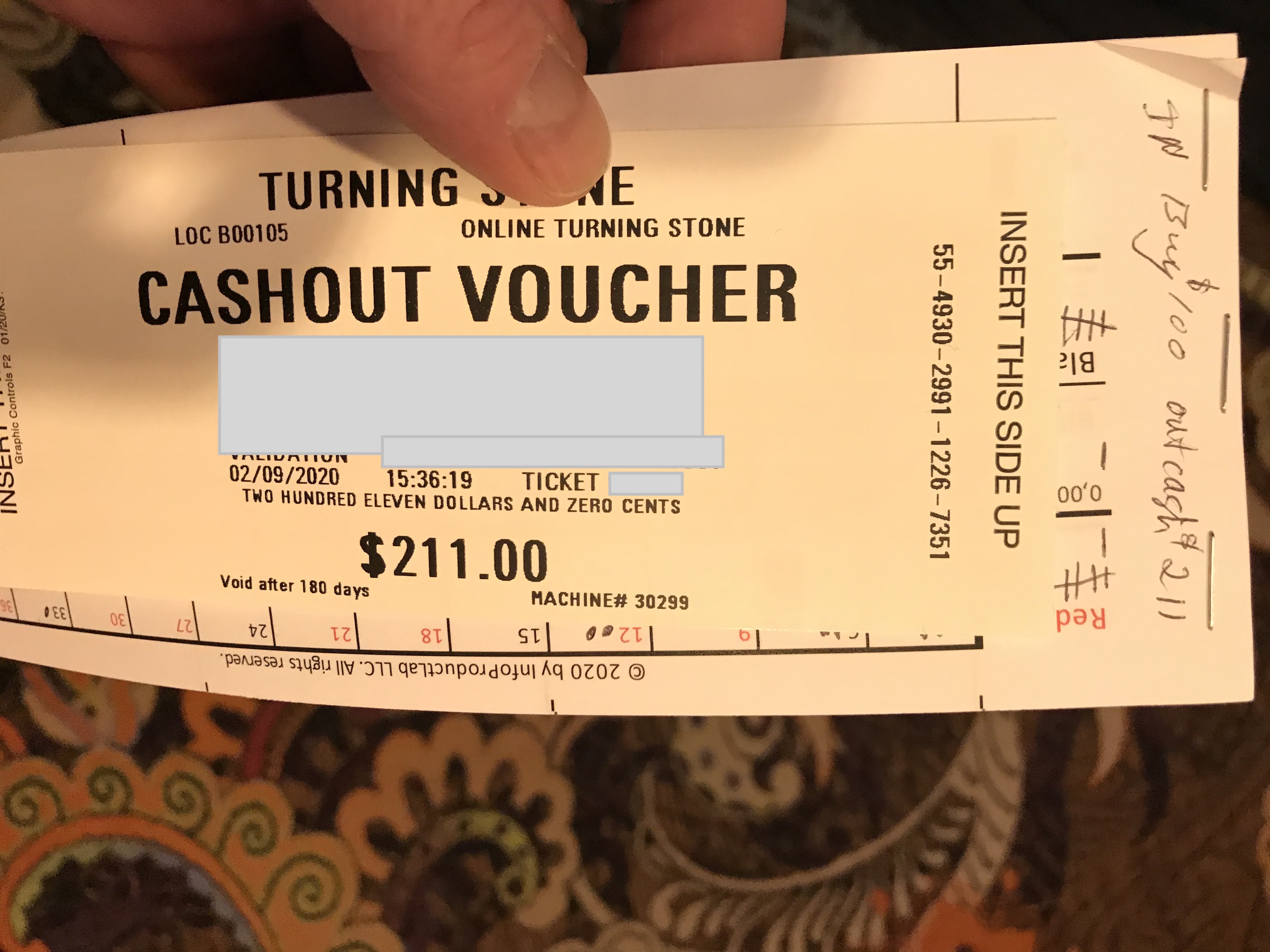 2/9/20: Cash in $100, cash out $211 (Turning Stone. Interblock 'bubble' roulette')
2/10/20: Cash in $100, cash out $215. I made a mistake in covering up the number, but it's in writing just above my fat thumb.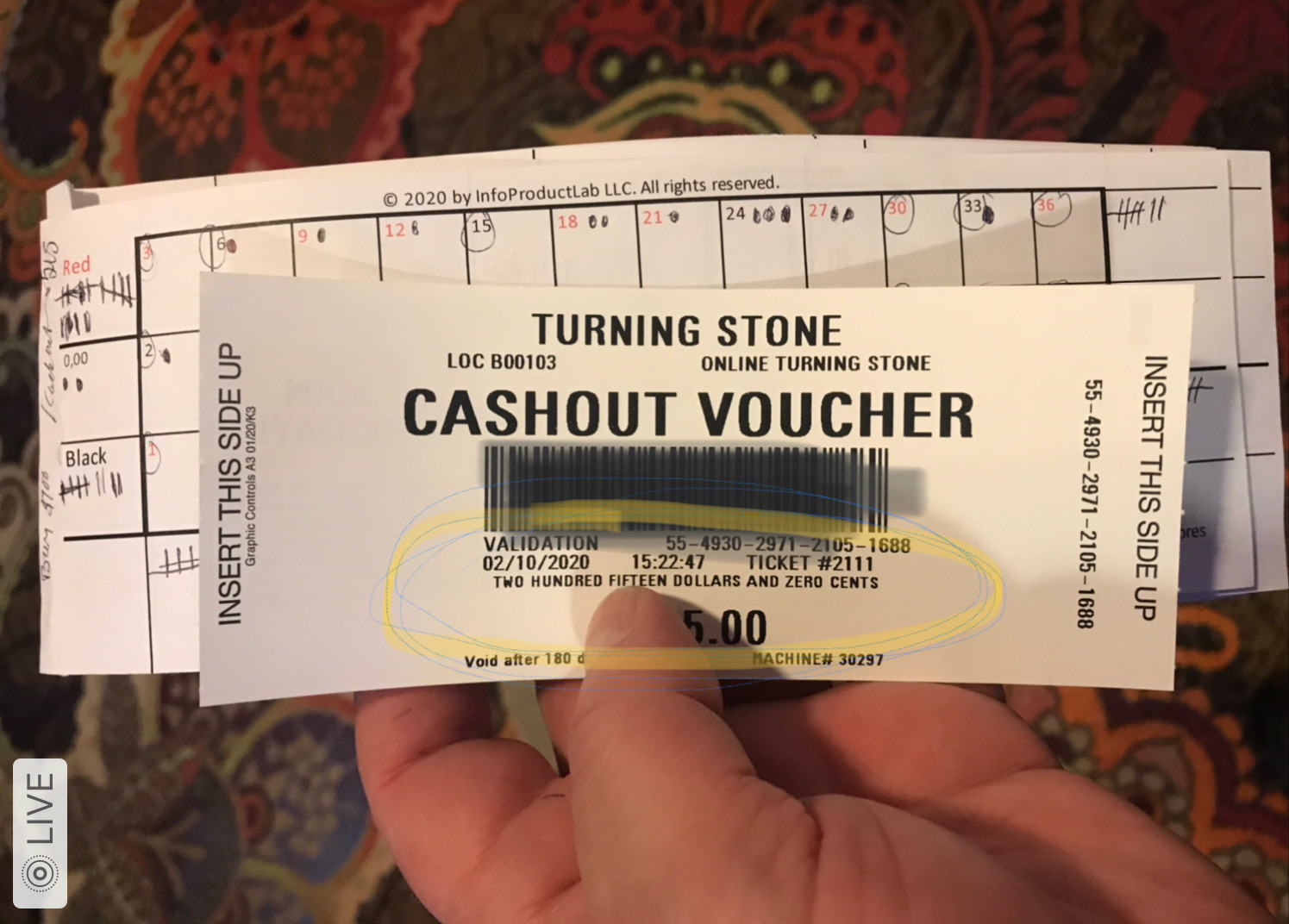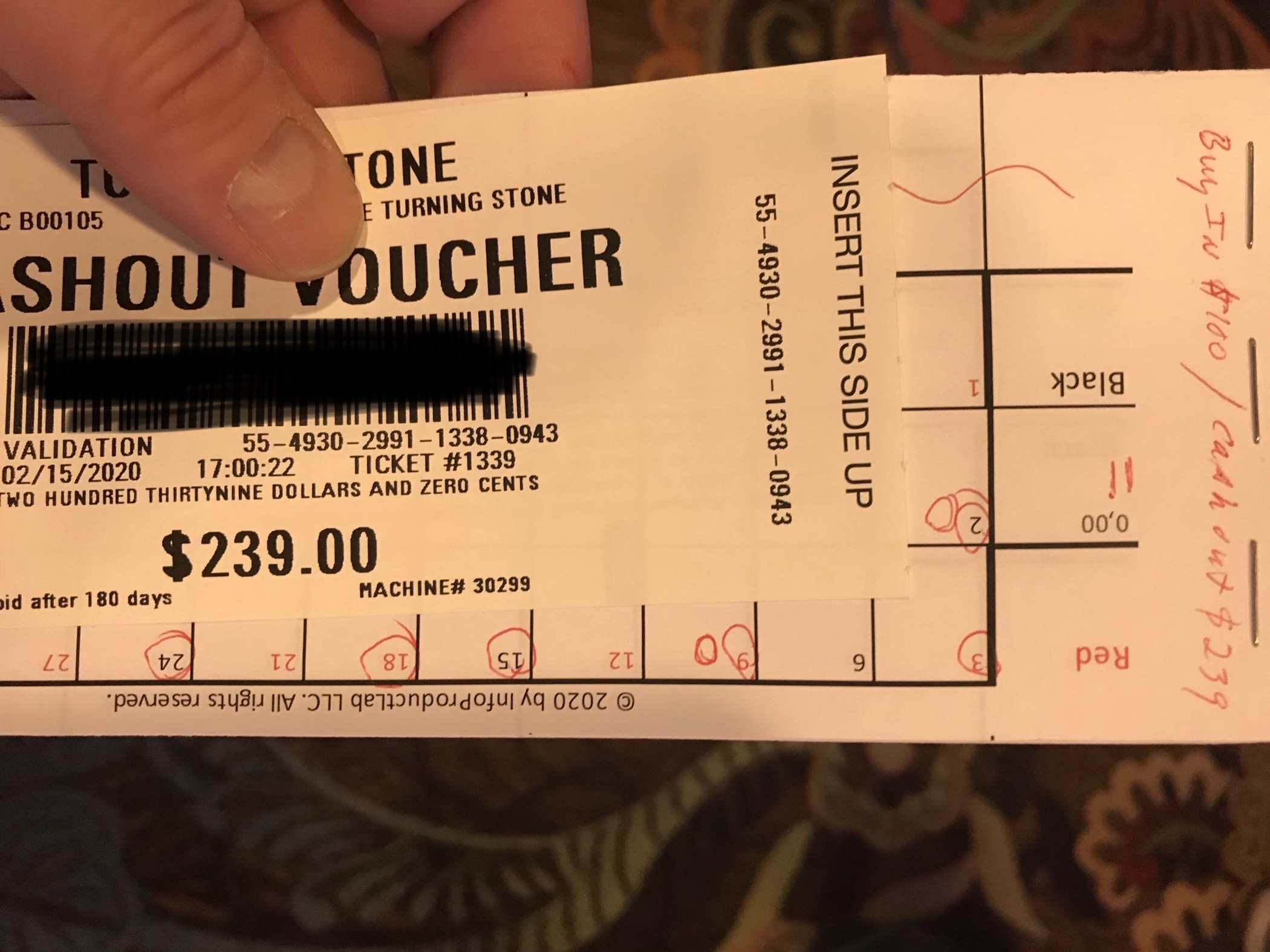 2/15/20: cash in $100, cash out $239
2/18/20: Session 1: Cash in $100, cash out $123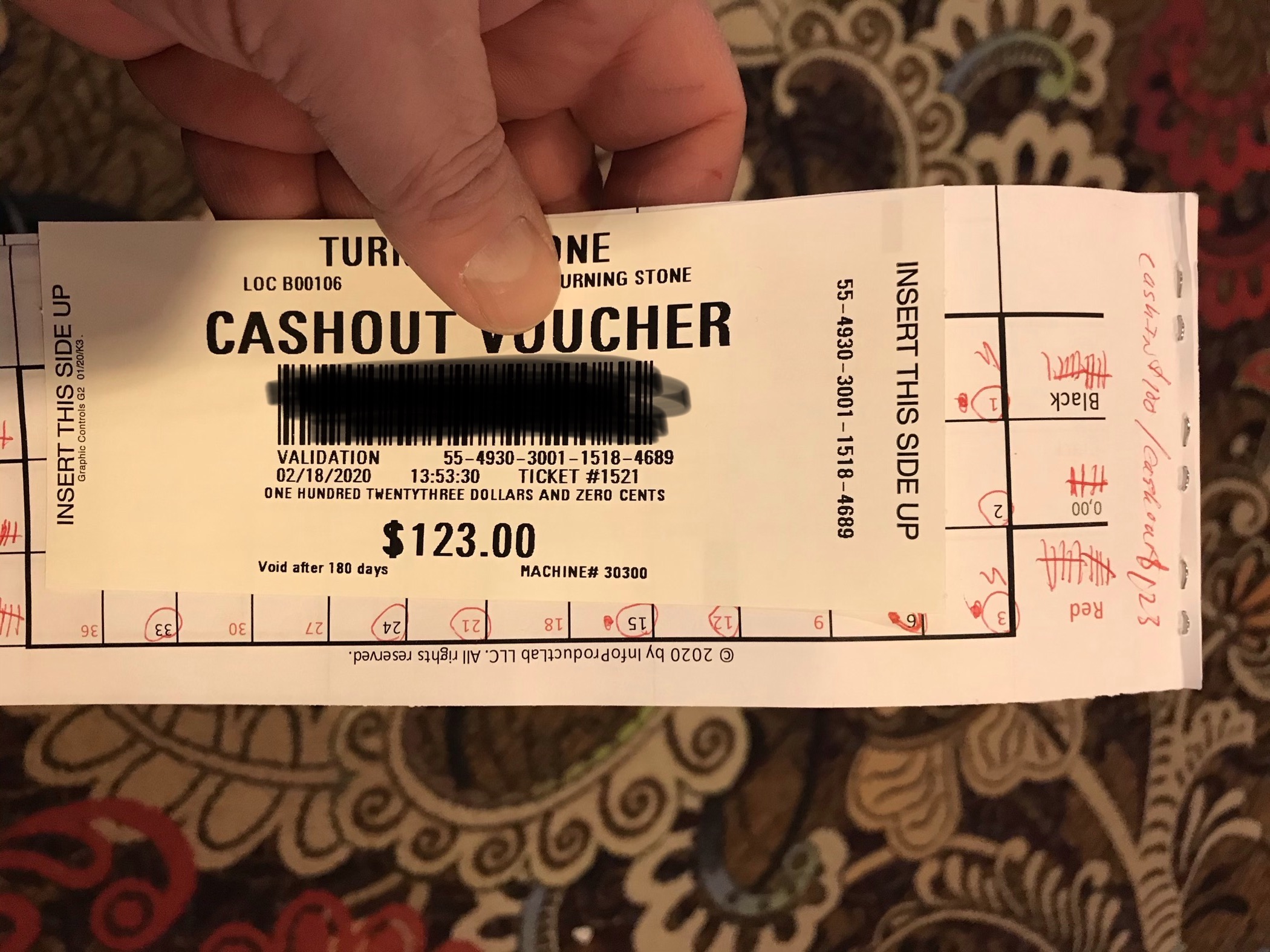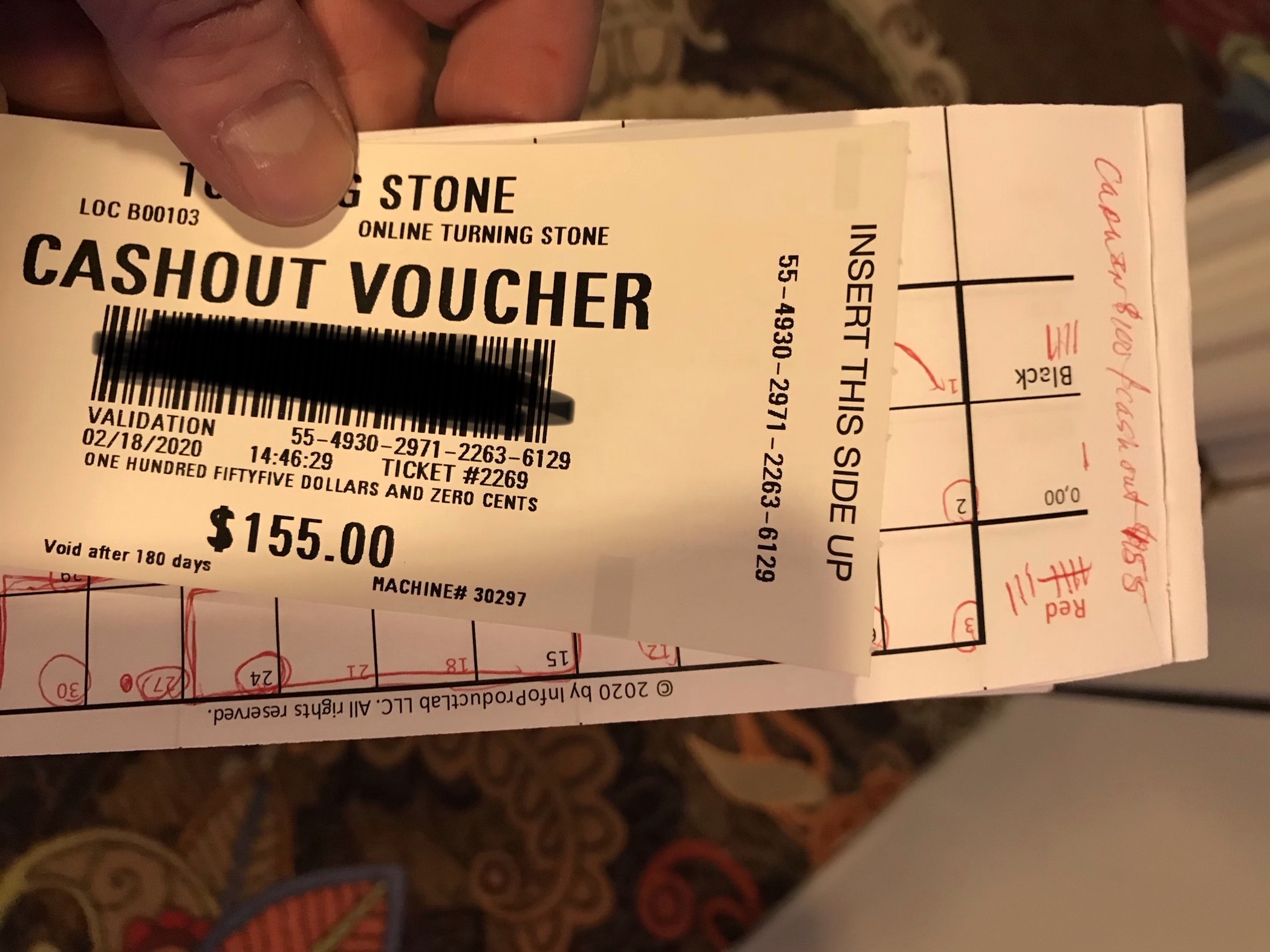 2/18/20 Session2: cash in $100, cash out $155
On 2/18 I had two sessions which added together, still nearly doubled my buy-in. I didn't have a lot of time so didn't stay until I doubled, but $78 in an hour isn't bad.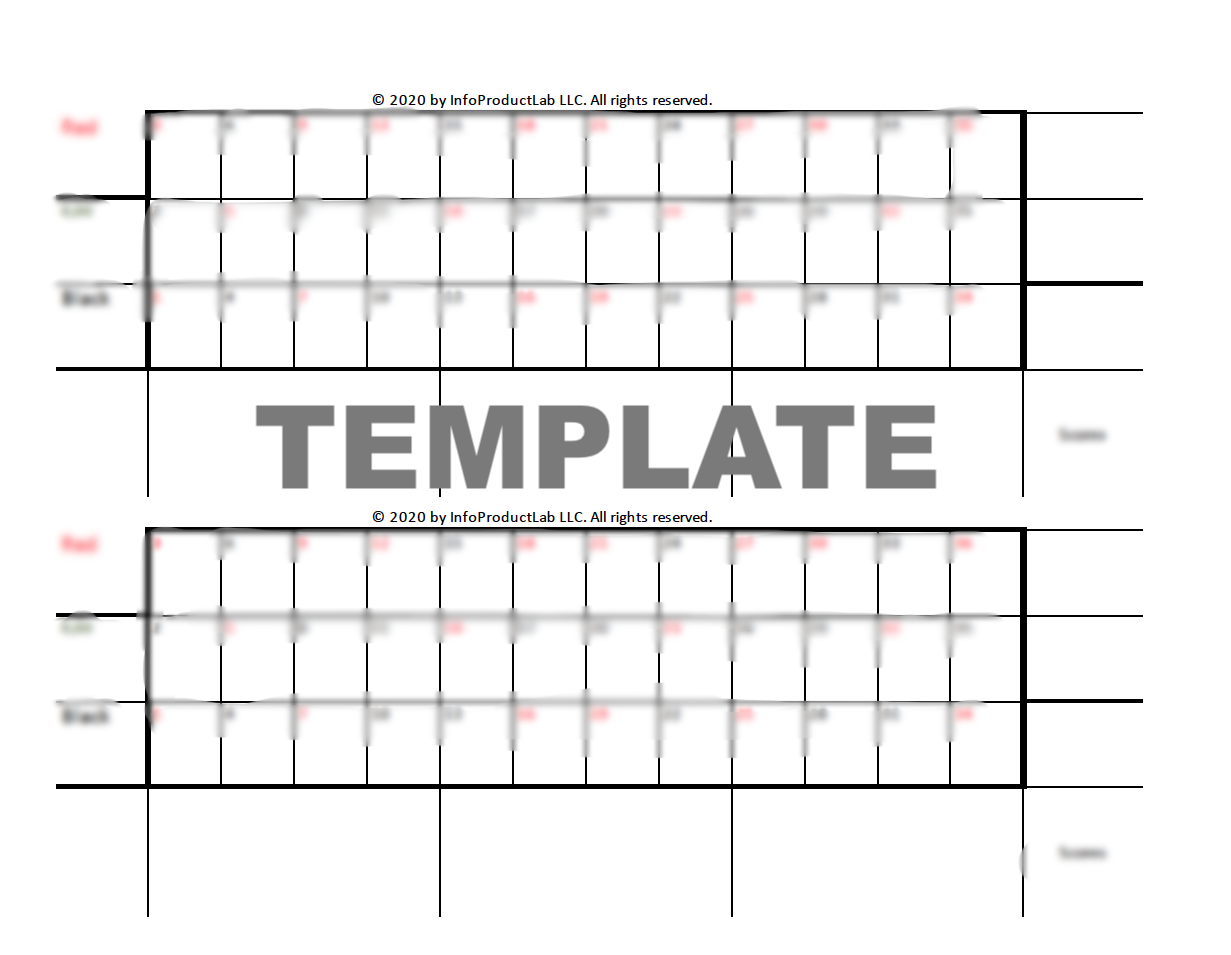 Get My Roulette Tracker Template!
This exclusive design template is a PDF file that you can print (seen in pictures on this page that I'm holding) and it allows you to track the random distribution of numbers in a 45 min session (average length of my sessions). You have unlimited printing rights so you can create your own flip book for each session you play. I've asked casino boss's and have taken this into casinos with me, and no casino boss has ever said, "you can't use that". Why? Because they know in the long run there may be a system that does work, but they make it up on the players who depend on luck and hope (which is 99.9% of all players). Also since this is 'paper', you can take it right up to the table. Smart phones cannot be used at the table, but paper and pen can be used. Big advantage there.
It Makes Playing Roulette More Fun
As stated at the beginning, numbers are hit based on random distribution and each spin is independent of the other, however by using the tracking sheet you should have a better 'view' of how the number are being distributed! In the short-term number distributions, 'zones' and other anomalies can and do occur and when they are identified it's what gives us an edge.


I wish you much success and of course, lots of luck! Don't bet more than you can afford to lose but most of all have fun!
Complete Instructions and Videos On How To Use The System
Included with your purchase is a PDF file with COMPLETE instructions on how to use the System as well as Bonus videos of step-by-step online sessions showing you how I use the system. And if you have any questions you get FREE 30 day unlimited SUPPORT. Just send me an email and I will answer any question you have! (A $100 value)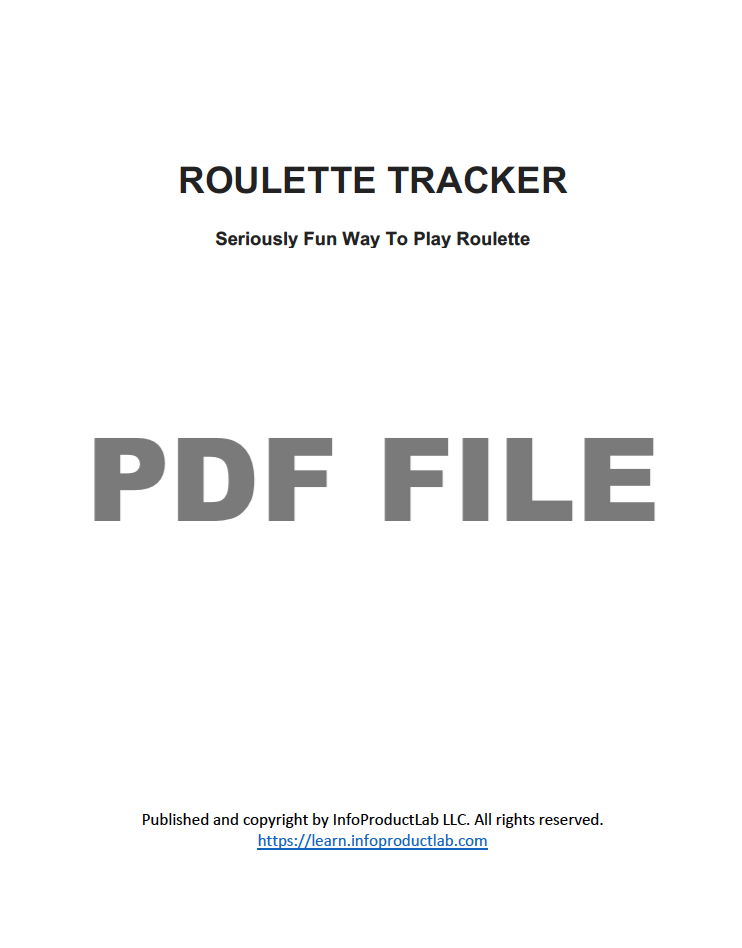 Videos, Download and a 'How To" Guide
Available in days

days after you enroll

The Roulette Tracker
Available in days

days after you enroll

Roulette Tracking Sheet