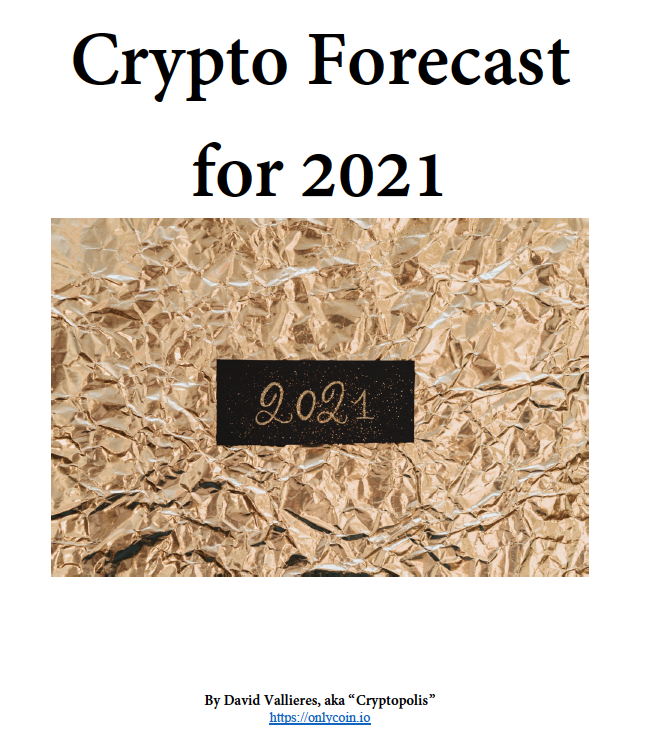 My total crypto market analysis predictions for the upcoming year in a 21 page report
Individual forecasts on BTC, XRP and my #1 Crytpo Pick for 2021 (a surprise)
My person views the total crypto market and where I think it's going in 2021
Charts you can use with my predicted price movements as guide for the entire year
MY opinion on the SEC case against Ripple and what it means for XRP
Where Bitcoin is likely going in 2021 and where the 'Bitcoin anti-government and anti- central bank revolution' is right now
How to Time the CRYPTO market like a PRO
Why BITCOIN is leading the market and when it will FALL
2021 targets on BITCOIN, XRP and my #1 CRYPTO pick.
What the LOW will be for XRP and why it will be a potential huge opportunity
1st Annual Forecast Report On Crytocurrencies
Will there be a bull market in 2021? Will alts finally catch up with Bitcoin?
What are the major factors in 2021 affecting prices?
I'm the guy who correctly called the alt coin rally in June 2020 and the decline in XRP BEFORE the SEC news came out.
Don't let the opportunities in 2021 catch you by surprise.
There will be HUGE opportunities coming, but only if you're prepared.
My report will give you the patterns that will likely occur in the market "In advance"!
It's every investors dream to be able to pick the TOPS and BOTTOMS in every market.
There's one chart that I have used that is not 100% but pretty darn close to 99%! in picking the EXACT tops and bottoms in the crypto market within a few weeks of it happening!
I share the chart with you and go into detail on how it works!
That's powerful.
This report is over 22 page long with detailed analysis, charts and commentary.
The chart above is one of the most important charts in the report and one that every one in crypto investor should have and use as a guide.
I do not say that lightly, it is THAT important.
You will be STUCK and CONFUSED if you do not understand this chart.
Anyone who purchase the report will get MAJOR UPDATES FREE until the next annual report is released in 2022!!
I have sold reports this detailed to clients for $1000.
• You'll get a lifetime of work in this report on markets and especially what's happening with CRYPTO and the FED! And why the FED matters
• The trouble facing Ripple and XRP - what it means and what the likely out come will be.
• What's the single most important thing holding BACK the crypto market and how it could change in 2021
• The ONE THING that makes crypto go up and how to time the market better than 99% of all crypto traders in the world.